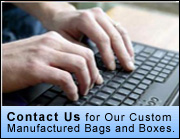 ---
>> Plastic Bags
>> Polypropylene Bags
>> Polyethylene Bags
>> Anti-static Bags
>> Reclosable Bags
>> Rubber Matting
>> Recycling Bags
>> Janitorial Supplies
---
Polyethylene Bags

Polyethylene (PE) is the material used over half of all films today, and low-density polyethylene (LDPE) is the source of most poly bags. All of our stock bags are manufactured with LDPE for its great tensile strength, clarity, flexibility and water barrier properties. It is also resistant to most caustic compounds. All of our plastic bags are manufactured to meet rigorous ISO 9001:2000 quality standards and offer consistent thickness, clarity, seals and durability. Choose from our complete line of plastic bags with confidence that the superior products you receive today will be the same high quality the next time you order.



Choosing The Right Mil Thickness for your PE Bags
Lightweight 1 or 1.25 mil bags are perfect for economical packaging and coverage of lightweight products.

1.5 and 2 mil bags are the most commonly used thickness for storing, shipping, or displaying everyday items.

Heavy duty 3 mil and extra-heavy 4 mil bags are capable of protecting and supporting heavy and abrasive items.

6 mil bags are our toughest bags, offering total protection for the heaviest products.

Inspecting Polyethylene Bag Gauge
Our polyethylene bags are manufactured under the most controlled tolerances. When inspecting a bag keep in mind the polyethylene is a flexible material, and gauge can only be measured accurately with a poly micrometer. Machine micrometers, intended for less delicate materials, pinch and flatten bags or film. As gauge will vary across the width of any bag, ask us for the appropriate weight of each case to be sure your bags are within tolerances.
Markable Polyethylene Bags
Parts bags and bags with white block for marking are ideal for organizing and displaying products. Three mil bags can handle even the toughest part.
Other types of our stock polyethylene bags include:

Poly bags on rolls/flat bags on rolls



Sheets on rolls / pallet top polyethylene sheeting



PE Mattress Bags



Furniture Covers



Low density liners and poly tubing



Polyethylene Zipper Bags